Project Cargo & Heavy Lift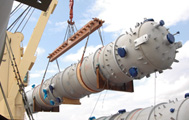 We offer Project Cargo Services commencement from planning, road survey, inland movement feasibility studies, trade and traffic forecasts, financing strategies. We use our global network of dedicated project cargo specialists for implementation.

We take up comprehensive cargo handling projects for our customers. Our services include transportation of machinery, raw materials, and other paraphernalia that might be required by the customer. Our core area in Projects cargo are Power Plants, Oil & Gas, Heavy Engineering and Infrastructure.

W W Shipping & Forwarding Pvt. Ltd. is also able to offer customized services with immense expertise and industry experience. Handling project cargo requires relevant understanding, equipment & manpower. We have a successful track record of handling super heavy lifts as well.

We are well equipped with efficient and effective infrastructure facilities to handle all types of project cargo globally. We have experienced and specialized personnel for project cargo logistics and have access to full range of material handling equipment such as cranes, lighters, heavy lift trucks and multi axles for sea and overland operations.